Cabinetry as kitchen an important tool to solve three meals a day, all year round the humidity and temperature always affect the results of the cabinet every day. In the selection of cabinet door panels, we still need to compare more and choose carefully to avoid choosing the wrong door panel and affecting the service life of the cabinet. The door panels currently on the market probably include several materials such as double veneer door panels, PVC door panels, paint-baked door panels, and solid wood door panels. Custom cabinet door panels must be carefully selected.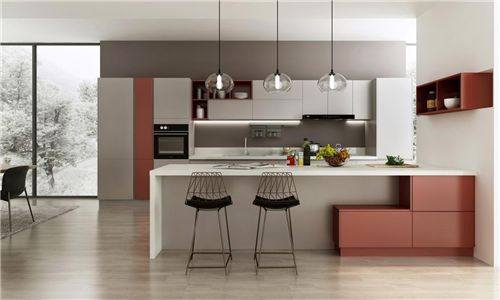 Double veneer door panels
     Double veneer door panels(also called melamine door panels), using particleboard as the base material, with melamine veneer on both sides, have wear-resisting, corrosion resistance, and texture nature is true, color diversity, but the shortcoming is to can do flat door only, cannot do door panel modelling.
PVC door panels
     It can also be called Vinty door panels, with medium density board as the base material, covered with a layer of PVC film after fine polishing on the surface of the plate, the overall beauty is good, the shape is beautiful, the style is more biased and European style, but the choice of bad PVC will have a strong plastic sense, rough texture.
Paint-baked door panels
     Paint-baked door panels use medium density board as the base material, which is baked through processes such as sanding and polishing, sealing paint, and baking. The appearance is delicate and smooth, the mirror effect is good, the texture is warm and the texture is strong, the anti-fouling and moisture-proof performance is strong, the high temperature and corrosion resistance, it is also popular in the selection of cabinet board.
Solid wood door panels
     Solid wood door panels are a very common type of cabinet panels on the market, which can meet the design needs of different styles. They are diverse in shape and beautiful. However, the environment has high requirements for dry and humidity and is inconvenient to manage. It requires time and energy to maintain regularly.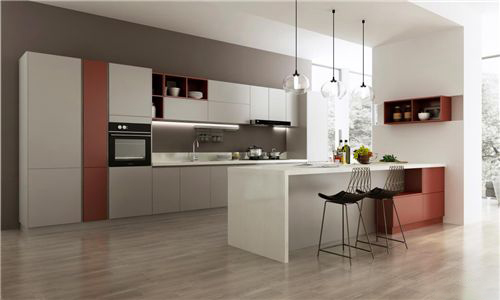 Each type of door panel has its own unique style and characteristics. According to yourself preferences and needs to choose the appropriate door panels, to create the soft visual touch, low-key luxury, elegant and high quality home cabinet, so that you can be immersed in warmth.